We spoke to Daniel, founder of The HummingBirds, about setting up his charity during lockdown, having a 'get it done' motto, as well as the importance and benefits of sport.
How would you describe your business in one sentence?
We are a charity aiming to help build communities in the Caribbean by developing sports and sporting facilities.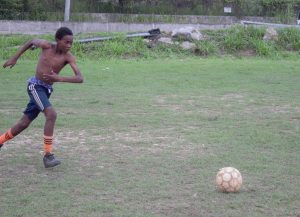 When did you launch and who is behind it?
I came up with the idea in the summer of 2019 and the charity was officially registered in April 2020.
When did your 'lightbulb happen'?
There wasn't a lightbulb moment per say…  It was more thought-out and calculated, thinking how best I could go about achieving the developments I am desperate to.  There were investment ideas, but these were outweighed by my belief that many other people would share my love for sport and my want to help people participate in more sports. I believe that with many people sharing my feelings, they would be happy to help in the Caribbean, which would lead to them supporting the charity.
What did you do prior to starting your business?
I started the charity while I was studying Primary Education at Roehampton University.  Prior to that, I was doing a lot of work in schools, with young people and in sports. I was a director at a nursery, a secondary school teaching assistant and a mentor. I coached football, and I had my own fencing club, coached international athletes including a commonwealth champion.
What inspired you to launch the business when you did?
What I did not want to do was to over-think things by questioning when was the best time to launch. After having the idea, it was a matter of days before I took the first step on this journey. 'Get it done!' is one of my many mottos – and the one that is written on my wall. In this situation, that is exactly what I did.
What type of support have you received since starting your business?
Most of the support I have had has been from those connected to Roehampton University. They have helped and guided me in a range of ways, such as: introducing me to people and advising and suggesting steps/actions for me to take. The University also wrote an article about me and allowed me to continue to benefit from the vast Roehampton alumni community.
What would you say were three of the most challenging aspects of setting up the business?
Choosing the right type of organisation for what I want to achieve (e.g. a CIC or a CIO).

Filling in the charity registration application form. It is not a short form and not filling it in correctly would lead to rejection and possible complications.
Not getting the initial reaction and support that I thought I would. People might say "well done" or "congratulations", but it would most often stop there, with them not even subscribing to the mailing list or following on Twitter or Instagram, let alone donating.
What happened to your business during lockdown?
The charity received its official registration during lockdown 2020. During this time, most thoughts and plans were geared towards developing the charity and preparing to spread the intentions of The HummingBirds. I was able to get many things in place, like the website, email addresses, social media and other things that make it 'real' to people.
What business lessons have you learned from Covid?
The power of sport and the many benefits there are, both physically and mentally, were made crystal clear when they were taken away from us all. Covid really highlighted to me the need, importance and benefits of sport, the value of regularly taking part in sport and socialising. This only further fueled me and my ambition to develop sport and share the many positives of it.
If you had the opportunity to do it all again, what would you do differently?
I would make more effort to capture much more of what I've done on camera with short videos and more pictures. I would use those pictures to help to visually tell/show the story of the charity and its journey.
What three tips would you offer to aspiring entrepreneurs?
Get started, and on the right path. Ask questions and do your research before taking those steps.

Put the work in, and remember things very rarely happen quickly.
The reality is likely to be very different to your fantasy. Accept the reality and do what is needed to make it your fantasy!
Finish this sentence. I like being based in Wandsworth because…
Of the friendly, helpful networks that I have found.  Because of the many options available that can and have helped the development and growth of the charity.
How can people find you?

We are also on Twitter, Instagram, Facebook and YouTube, all with just a click from our link tree: https://linktr.ee/thehummingbirdscharity.