We spoke to Shahd Mahnavi, co-founder of Moxies Fish Bar and winner of Wandsworth Women's Enterprise Awards – High Street Hero, about running their sustainable seafood business.
How would you describe your business in one sentence?
Our business is committed to providing sustainable seafood to customers who value ethical and environmentally conscious practices.
When did you launch and who is behind it?
We launched in 2014. My husband worked in a fish and chips shop for several years, learning all aspects of the trade. Meanwhile, I worked many years in the retail industry. Together, we have blended our skills and opened Moxies Fish Bar it was a winning combination.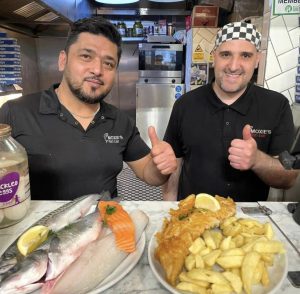 When did your 'lightbulb happen'?
When I moved to London in 2003, I fell in love with the culture. It was a city full of opportunities, and I knew deep down that I wanted to build my career here and contribute to the community. I had always been passionate about sustainability and the importance of protecting our planet, and I noticed that there was a significant gap in the market for high-quality, sustainable seafood in London.
It was a challenging journey, but with a lot of hard work and dedication, my business soon began to flourish. The community welcomed me, and my business quickly became a popular destination for fish and chip lovers from across the city.
Today, I am grateful for that 'lightbulb moment' that inspired me to pursue my passion and make a difference in the community that I love. I am proud to be able to serve my fellow Londoners with delicious, sustainable seafood.
What did you do prior to starting your business?
Prior to starting my own business, I had gained invaluable experience working in the beauty and fashion industry. I worked for Estée Lauder for 7 years and was able to cultivate my skills and knowledge in various areas of the business. I learned the importance of customer service, marketing, sales, and branding. Whilst I thoroughly enjoyed my time with Estée Lauder company, I had a burning desire to start my own business. With the knowledge and experience I gained during my time in the industry, I felt confident in taking the leap and pursuing my entrepreneurial dreams.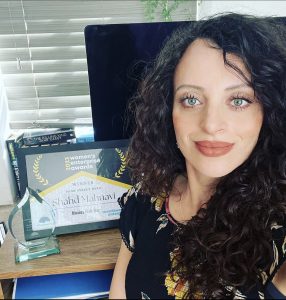 What inspired you to launch the business when you did?
I was inspired by my desire to make a difference in the community. As someone who is passionate about leadership and management, I knew that I had the skills and talent necessary to build a successful business that could positively impact those around me. I wanted to create a company that not only provides valuable services or products but also contributes to the growth and development of the community. This motivation has kept me going through the ups and downs of entrepreneurship, and it has given me the drive to be a team leader who empowers others to reach their full potential.
What type of support have you received since starting your business?
I have received various forms of support since starting my business, as well as encouragement from good friends and family – especially from my parents. I have been fortunate enough to have had the opportunity to network with other entrepreneurs who have provided invaluable insights along the way.
What would you say were three of the most challenging aspects of setting up the business?
Financial management. Keeping track of the finances to ensure we don't run out of capital. Needing to create a realistic budget, monitoring cash flow, and tracking expenses to make sure we stay afloat.
Building a solid team. The team is the backbone of any business, and hiring the right people who are highly skilled, and share our vision and beliefs, can make a big difference.
Marketing and branding. Creating a unique brand that stands out from the competition, having a clear understanding of our target audience and coming up with creative and innovative strategies to reach them can be a difficult task.
What happened to your business during lockdown?
We were allowed to keep our business open for deliveries, but it was a gamble – because nobody knew how long the situation would last or what the outcome would be. It was a scary time for us, but we kept going. We worked hard to keep our customers happy. It wasn't easy, but we made it through. Despite the immense difficulties we faced during lockdown, we came out of the other side stronger and more resilient than ever before. We're now ready to take on whatever challenges that comes our way.
What business lessons have you learnt from Covid?
One of the most important insights we've gained is the need for flexibility. Adapting quickly to the changing circumstances was one of the reasons we survived.
Another critical lesson is the importance of innovation. For instance, we had to quickly adopt contactless payment systems, curbside pickup, and delivery services during the pandemic.
Finally, we've learned the importance of being prepared for the unexpected. Disaster response and recovery planning, as well as maintaining adequate cash flow and financial reserves, are now essential components of business continuity.
Tell us about your sustainable practice?
We take great care in working with suppliers who prioritize responsible fishing methods to help preserve and protect our marine ecosystems. Through these efforts, we are able to offer high-quality seafood to our customers while also supporting the health and longevity of our precious natural resources.
If you had the opportunity to do it all again, what would you do differently?
I wouldn't change a thing because all the mistakes and setbacks from my past have molded me into the knowledgeable entrepreneur that I am today. I am optimistic about the future and grateful for the lessons learned along the way.
What three tips would you offer to aspiring entrepreneurs?
Focus on your goals: Stay on track and make decisions that align with your ultimate objective.
Stay positive: Use setbacks as opportunities to learn and grow, rather than letting them discourage you.
Network: Build relationships with others in your industry, attend events, and seek mentorship. Strong connections can lead to new opportunities.
Starting a business is challenging but rewarding. Best of luck to those taking on this exciting journey!
What do you like about being based in Wandsworth?
Wandsworth Council values the hard work of women in business and provide endless opportunities for small business owners to succeed. It's empowering to be acknowledged and rewarded for the dedication and effort put into our work, and it's refreshing to see a community that actively supports and encourages female entrepreneurs. I feel proud to be part of such a progressive and supportive environment.
How can people find you?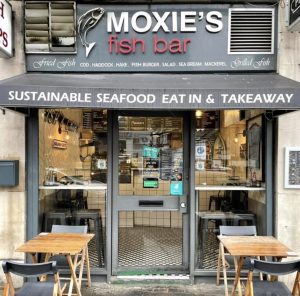 Or contact me on: