Mondo Brewing is a Battersea based, independent craft brewery. The company was launched in 2014 by American brewers Todd Matteson and Thomas Palmer. Todd reveals the inspiration behind the business, some of the challenges they experienced along the way and how they pivoted during lockdown.
How would you describe your business in one sentence?
A modern craft brewery, producing beers influenced by the hop-forward styles of our friends on the other side of the pond, the purity and tradition of our German brewers, or the sense of adventure that has taken our founders from America via Europe and Japan to South West London.
When did you launch and who is behind it?
Mondo was started by myself, Todd Matteson, and my business partner, Thomas Palmer, back in September of 2014, with beers going into the market by May of 2015.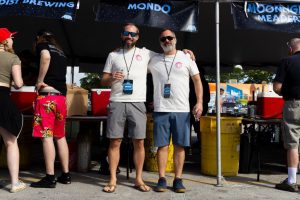 When did your 'lightbulb happen'?
Tom and I were working together at a brewery in East London starting in 2013 and both had dreams of opening our own brewery one day.  After many brewing shifts together and the frustration with the work environment we were in, we began talking about the possibility of combining our shared passion for beer and our brewing experiences to create a brewery in London.  When my wife and I decided to stay in the UK for the long-term, Tom and I felt we could build something together that would represent our travel experiences and global influences.
What did you do prior to starting your business?
I started out in the music industry in NYC for four years, then moved on to do sales in the online advertising industry.  Tom had most recently been in academia in Japan, before moving to London.
What type of support have you received since starting your business?
Aside from financial investment from friends and family, we've had many industry friends from around the world help us get to where we are today.
What would you say were three of the most challenging aspects of setting up the business?
Finding the right building – only 1% of industrial units in Central London were actually available on the market when we were looking for premises
Navigating everything to do with opening a business in the UK
Hiring the right people to help build the business.
What happened to your business during lockdown? 
We had to pivot quite quickly once the first lockdown was announced.  There was obviously a great deal of uncertainty for a lot of businesses, but especially for the brewing and hospitality industries. We were very fortunate to have a bottling and canning line of our
own already, so were able to package our beers in tank into cans and bottles easily.
We had already been working on a new website and web shop, so the timing worked out great with regards to being able to sell our beers online. On the whole, sales dropped significantly, as over 90% of our trade came from selling to pubs/restaurants/bars, but the ability to sell online and eventually out the front door of our brewery, helped tremendously.
What business lessons have you learned from Covid?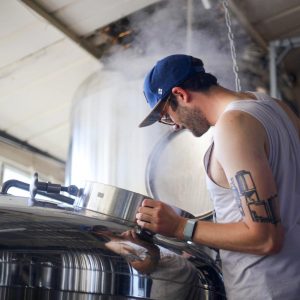 Never take anything for granted and always have a contingency plan in place for worst case scenarios.
If you had the opportunity to do it all again, what would you do differently?
We don't have many regrets, but I would say the biggest thing we'd differently would have been to open our own bars/pubs from day one.  We have recently opened a new beer and pizza venue next to Borough Market along with the team behind Joe Public Pizza in Clapham Common.  We're looking to expand our own retail presence over the next 3-5 years in London.
What three tips would you offer to aspiring entrepreneurs?
It sounds cliche, but never be afraid of failure or making mistakes.
Talk about your business ideas to anyone and everyone.  You never know who might be able to help you or put you in touch with other people who can.
Plan for every scenario you possibly can.
Finish this sentence. I like being based in Wandsworth because…
It's a great and supportive community.
How can people find you?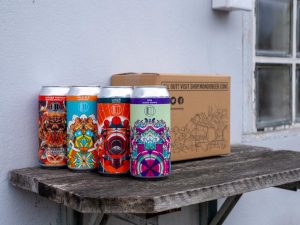 People can enjoy our beers at our on-site taproom at 86-92 Stewarts Road, SW8 or at our new venue, Mondo Beer & Pizza, Arch 232, Bank End, London SE1 9FJ.
They can also find out more information about us or order beers online at www.mondobeer.com.
Instagram: @mondobrewing
Twitter: @mondobrewing
Facebook: mondobrewing