Minar Jewellers is an award-winning business run by Pravin Pattni and his son Jaysal.
Pravin is former chairman of the National Association of Jewellers and is the first person of Indian origin to hold the position.
In 1926, Pravin's father Amritlal Mulji Pattni, left India for Kenya aged 11 and at the age of 24, opened his own jewellery shop in the western region. Jaysal, a Gemological Institute of America (GIA),  graduate shares their story.
Describe your business 
We are a fourth-generation independent jeweller based in the heart of Tooting that specialises in diamonds, gold and platinum jewellery. We pride ourselves in making sure that all of our jewellery has been ethically sourced.
When did you launch and who is behind it? 
Minar Jewellers was established in 1982 and is one of the oldest South Asian retailers in South London. We took over the store in 1998 and since then the Pattni family have owned and run the business.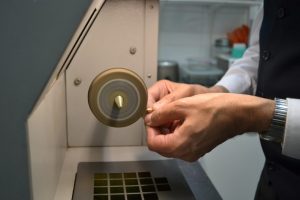 Tell us a bit about your heritage – where do you originate from? When did your family come to the UK?
Jewellery is literally in our blood. My grandfather's Uncle (my great-great uncle) emigrated from India in the late 1890's to Kenya, East Africa. My grandfather – Amritlal Mulji Pattni –  joined him in 1926 and ran a jewellery business in Eldoret, a town in western Kenya, until his early death in 1972. My father, Pravin took over running the business until 1974, when he emigrated from Kenya to the UK. He opened his first showroom in Streatham in 1977 and first Tooting shop in 1985 and has been there ever since.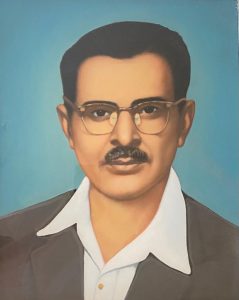 Does entrepreneurship run in your family?
When he was 11 years old, my grandfather travelled in a boat from India to Kenya. At the age of 24 he opened his own jewellery shop after having worked in the trade for a number of years. My uncle and my father were 17 and 19 years old when my grandfather died suddenly of a heart attack. They took over the business which became a well-known jewellery in Eldoret.
Our family arrived in the UK from Kenya in 1974 with a small amount of savings. When we first opened our shop in Streatham – a Gregg's bakery shop – we couldn't afford to have a jewellers' shop fitting, so we asked a local carpenter to alter the units into jewellery counters, and the majority of the painting and decoration in the shop was done by the family.
In 1998 we had built up some reinvested profits and put a proposal to the bank to borrow 10 times our savings.  This provided us with an opportunity to buy out our competitor which is now Minar Jewellers. This is the unique example of an entrepreneur's risk – taking decision. The thought of failure never crossed my father's mind.
How would you say your heritage has influenced your business?
There are some fundamental principles which our father taught us, that we have followed.  That is as true then as it is today: trust, courtesy and transparency. We also support and get involved with local community events such Eid and Diwali.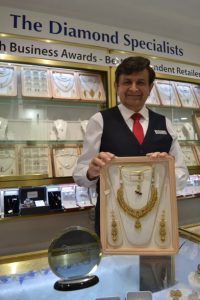 What inspired you to launch the business when you did?
We felt there was a gap in the market for a quality jeweller in Tooting.
What have been three of the most challenging aspects of running the business?
Obtaining finance to buy stock. The stocking cost in gold and diamonds is substantial.
Educating myself with gem and jewellery qualifications  – whilst working up to 16 hours a day in the business.
Finding skilled workers
What happened to your business during lockdown?
We closed the shop, furloughed our staff and kept our online business open. We were one of a dozen jewellers in the UK who were open for online sales during Covid. I would come into the shop, handpick all the items which were secured overnight in the safe, ensure that all the jewellery was sterilised, and then hand deliver them to the Post office.
If you had the opportunity to do it all again, what would you do differently?
Subject to financial availability, open a high street brand with well trained staff and create an ambience that is aspirational.
What three tips would you offer to aspiring entrepreneurs?
Research your business plan thoroughly.
Believe in yourself
Never give up
Finish this sentence. I like being based in Wandsworth because…
It's a business-friendly borough that provides plenty of opportunities for entrepreneurs.
How can people find you?
Minar Jewellers 181 Upper Tooting Road, Tooting, London, SW17 7TG
WhatsApp 07403 493 885