Ron McRobbie, tells us about  how he started his business, Robbie's Photographics as a retirement project.
Describe your business in one sentence
Robbie's Photographics provides a comprehensive range of creative services to photographers and artists.
When did you launch and who is behind it?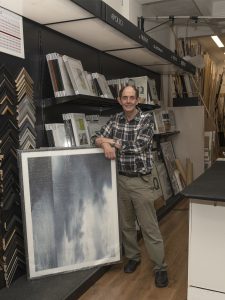 I launched the business in 2005 as a retirement project. I've been passionate about photography since my school days, and have always relished the challenges to create and present images. So rather than going into early retirement, I decided that I could develop a completely new career around my passion.
What did you do prior to starting your business?
Before creating Robbie's I worked in the food industry. I was heavily involved in manufacturing and was responsible for several factories producing margarines, cooking oils and specialist edible oil based products for the retail, wholesale and manufacturing sectors.
What inspired you to launch the business when you did?
I came up with the idea for the business in 2003, and spent two years researching and training before opening my  shop in 2005. Back in those pre-digital times, photographs would be printed and put into albums or small photo frames. Consequently, after the initial production and viewing they would rarely be viewed again. I feel that photography is a brilliant way to record families, scenes and events, and should be available to be viewed many times to trigger happy or important memories. So the best way to do that is to create a larger image and display it in a frame to hang in your house, office, club or wherever.
Are there any entrepreneurs you admire? If so, why do you admire them?
I admire all entrepreneurs. They have courage and endless energy to create a business.
What would you say were three of the most challenging aspects of setting up the business?
A clear vision of what you want to achieve
Finance to take you through the period it takes to establish a business
Assembling resources both physically and human to allow you to operate.
What three tips would you offer to aspiring entrepreneurs?
Strong financial control is absolutely essential
Market research to find your positioning in a market
Complete dedication
What advice would you give to someone thinking about starting a business later in life?
I believe there is no age limit to starting a business. I started Robbie's at the age of 58. But good health and a strong work ethic are essential. You have to be prepared to abandon the 40-hour week concept and work long hours. Being older I was able to draw on lots of experience to see me through.
What type of support have you received since starting your business?
Robbie's has faced many challenges. A major issue has been the change in technology from analogue to digital. This has involved significant borrowings from Banks and other financial institutions to re-equip machines.
What business lessons have you learned from Covid?
COVID has been a major challenge to all businesses. It taught me to be prepared for completely unexpected events and to employ my drive and energy to find solutions to problems. It has not been easy, but we've concentrated on fine art and photographic printing and offer a comprehensive picture framing service, which has carried us through the difficult times.
Finish this sentence. I like being based in Wandsworth because…
There is a huge diversity of people who have a love of photography and the arts and I get to meet lots and lots of interesting people. Long may I continue!
How can people find you?
9 The Boulevard, Balham High Rd, London SW17 7BW
Instagram @robbiesphotographics
Facebook @robbiesphoto