Cassandra Liu, a former chartered accountant, shares how feeling homesick during lockdown prompted her to co-launch CHA DONG, a Hong Kong style milk tea brand with her husband.
How would you describe your business in one sentence?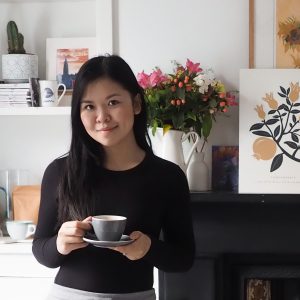 Artisanal tea brewer, connecting people in the UK with Hong Kong's most popular drink.
When did you launch and who is behind it?
CHA DONG (which means "tea stall" in Chinese) was launched in August 2021 by my husband and I, initially as a hobby business from home which then grew.
When did your 'lightbulb happen'?
There wasn't a particular lightbulb moment, but more of a growing desire to access an authentic cup of Hong Kong style milk tea to cure our homesickness.
What did you do prior to starting your business?
I'm a chartered accountant and worked as management consultant when I started the business.
What inspired you to launch the business when you did?
It's something that has been on the back of our minds for a while. We struggled to find a good cup of Hong Kong style milk tea outside of Hong Kong for many years and it's been great seeing Asian beverages flourish in the market (particularly bubble tea), but it always leaves us with the question, what about Hong Kong style milk tea? Being home during lockdown and missing our family overseas was the final trigger that took us in this direction.
What type of support have you received since starting your business?
Before we launched, we rallied a lot of friends for taste testing sessions and asked for a lot of their feedback on our product design. We wouldn't be here today without their encouragement and support so thank you!
What would you say were three of the most challenging aspects of setting up the business?
The main challenge was managing work-life balance, I was in the process of transitioning back to work from maternity leave so initially took things slowly to ensure that the business would not disrupt our time with our little one.
Secondly, after being accustomed to working in an environment where you have back-office support for everything we found it quite challenging when we were suddenly taking on multiple hats and you're suddenly the IT team, the creative studio and your own PR!
Lastly, being a beverage business, the supply chain is something that we still manage very closely. As a small business, you tend to have less of a bargaining power with suppliers so it's something we needed to be on top of early on and develop relationships with our own network of independent suppliers.
What three tips would you offer to aspiring entrepreneurs?
Get the compliance basics set up – once the business is up and running, it's easy for this to fall under the radar
Don't be afraid to delegate or outsource – in the early stages of the business, we all want to have that element of control but don't undervalue your time! If you know what your strengths are, then there's nothing wrong with finding or asking for support.
Be agile – no matter how much planning you've done, there will always be curveballs which is the beauty of start-ups.
Finish this sentence. I like being based in Wandsworth because…
There is a great community of like-minded independent businesses, particularly where we are based at Mission Kitchen, The Food Exchange. The atmosphere is dynamic and it's great to just be able to bounce ideas off people and seeing the hospitality sector thriving.
How can people find you?
Instagram @chadongofficial
Facebook @ChaDongOfficial