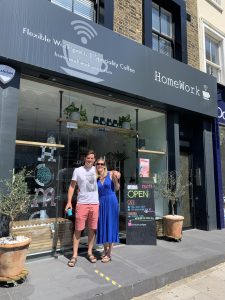 Husband and wife duo Claire and Sam Tucker, are co-founders of HomeWork Workspace , which opened in Putney in 2019.  As they prepare to launch their second space in Southfields, Claire shares the importance of support from family and friends and offers tips for aspiring entrepreneurs.
Where in Wandsworth are you from?
Earlsfield
Where is your business based?
Putney and we're currently fitting out a second site in Southfields
When did you launch your business and who is behind it?
My husband Sam and I are the co-founders but I run the business on a day to day basis.
We incorporated the business in November 2018 and opened our doors in Putney in August 2019.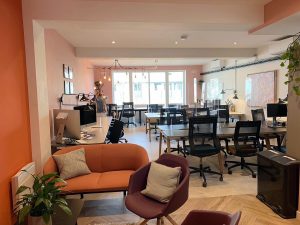 Describe your business in one sentence?
It's a flexible workspace and café offering an alternative to working from home for those who live locally.
What inspired you to launch the business when you did?
Over a glass of rose in the summer 2018 – we were discussing flexible working and the fact that the existing co-working solutions didn't really offer the flexibility and convenience the individual worker needs. We agreed that there was a gap in the market and decided to give it a go!
What did you do prior to starting your business?
I was a chartered accountant with PriceWaterhouseCoopers.
What type of support have you received since starting your business?
We've received overwhelming support from lots of different people.   We received financial support from our parents who have both invested in the business.  We've also received lots of positivity from friends who follow us on social media and pop into the workspace when they're in the area or for social events (when these were allowed!).  Our amazing team who work so hard, love being part of the business and have been incredibly supportive.  Above all, from our amazing customers all of whom are so positive and engaged with the business, many of whom have been with us from the beginning.
We have also had good financial support from the government during the various lockdowns.
What would you say were three of the most challenging aspects of setting up the business?
Installing the Wi-Fi in Putney!
Trying to earn enough revenue to make the business viable
Covid!!!!
What happened to your business during lockdown?
We were closed for long periods and had to rely on government grants, a bounce back loan and the furlough scheme to keep ourselves afloat.   We've also had to introduce more spacing between desks so our trading capacity has reduced although we hope this will go back to normal this summer.  In spite of the challenges though, our market opportunity has expanded and as such we have been very fortunate to find investment to expand during the pandemic.
What business lessons have you learned from Covid?
To keep a healthy liquid balance sheet! And, secondly, if we can survive Covid, we can (hopefully!) survive anything!
If you had the opportunity to do it all again, what would you do differently?
Nothing. I absolutely love it, in spite of everything that's happened in the last year.
What three tips would you offer to aspiring entrepreneurs?
Speak to people. Starting a business is about taking a leap of faith and it's very easy to talk yourself out of it unless you have good supportive counsel to keep you motivated and focused when you're thinking "this is all too hard".
Hedge your bets financially. My husband was earning so we could get by with me not earning. If you're not in that position I would try and do it alongside your main job initially, perhaps going part-time if the time constraints are too much.
Be passionate! It's like parenthood – way too exhausting and financially draining if you don't love it! Your enthusiasm, energy and determination will rub off on everyone around you and that will drive your success!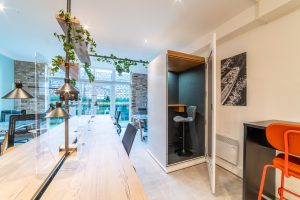 So what's next for your business?
My latest venture is expanding it!
Finish this sentence – I like being based in Wandsworth because…
It's a fantastic place to have a young family whilst still being in the thick of the London excitement. We live near Wandsworth Common which is an amazing green space and a great place to head out to with the kids. We also have a lovely community of friends close by, most of whom have children in the local primary school. We love it here!
How can people find you?
192 Upper Richmond Road, Putney, London, SW15 2SH
265-269 Wimbledon Park Rd, Southfields, London SW19 6NW