Are you looking to increase your online sales? Discover how to build an e-commerce strategy that aligns with your marketing plan by joining this virtual workshop by the London Business Hub. An expert speaker will give you the tips and tools to grow your online presence and build an effective online action plan.
You will leave this workshop knowing: 
Website optimisation strategies to build your online presence
How e-Commerce and e-Marketplaces can help your business to remain competitive
How to set up your e-Commerce website through tools like Shopify
How to create a virtual store on e-Marketplaces such as Amazon
Best practices to develop your customer experience
What are the operations needed to support your website (payment provision, shipping & returns etc.)
How e-Commerce fits into your digital sales and marketing strategy
Guidance to start building an action and implementation plan
Only 30 places are available and applicants must meet the eligibility criteria. Find out more here.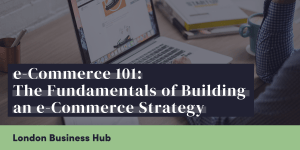 Do you need advice and support for your Wandsworth business? Wandsworth Council has partnered with the London Business Hub to provide free 1-1 expert advice to start, sustain and grow your business. Book your free session here.