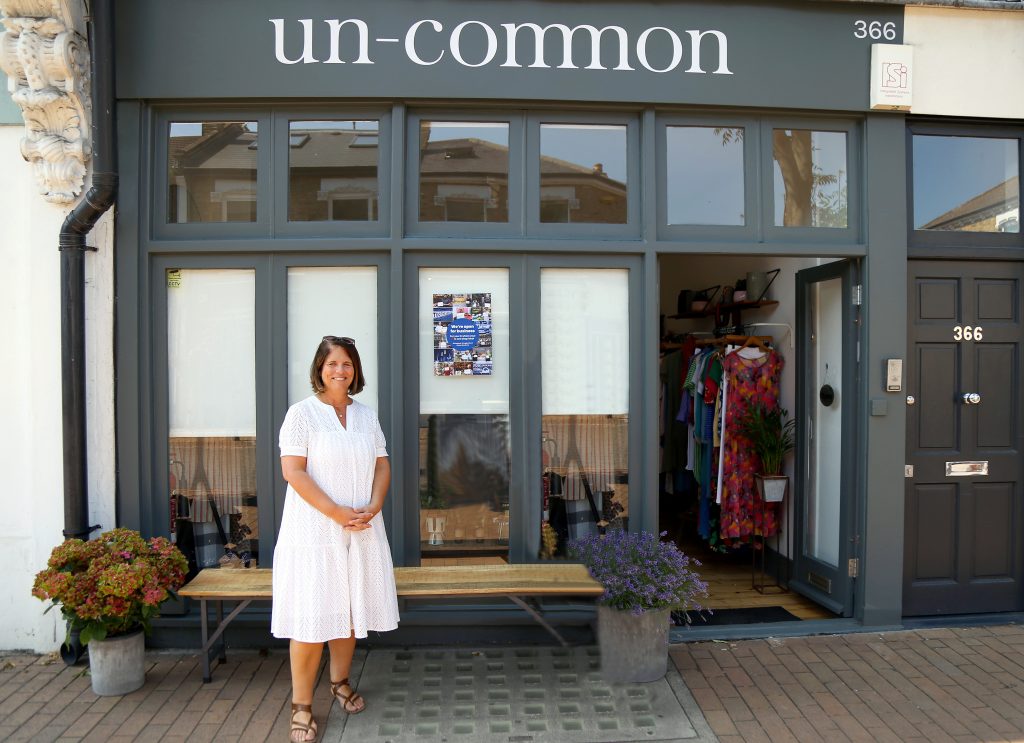 Un-Common Boutique
366 Old York Road, SW18 1SP
Instagram: @un_commonshop
Describe your business in one sentence?
A carefully curated collection of clothing and lifestyle pieces from around the world.
When did you launch and who is behind it?
The concept for the shop is mine. I had planned to open on the 1st of April but obviously couldn't due to Lockdown, so I opened on the 15th of June. 
When did your 'lightbulb moment' for the business happen? 
It's probably been bubbling under for about 10 years. But just before Christmas last year, I thought "No that's it, I'm going to leave the corporate world and follow what I want to do." I had just done 30 years in retail and just thought 'now's the time' – the kids are a bit older, so yes, I could do it. 
"I think 'local' is becoming more important, which has to be good for us small independents."
What did you do prior to starting your business?
I was in retail. I've been a director of various companies on the high street, and I was a buying director at Debenhams and White Stuff. After that I ran my own consultancy business.
What type of support (if any) have you received since running your business?
I haven't received any support – I've done it all myself. 
What is one of the challenges your business is currently facing?
The volatile and changing environment is probably the biggest challenge… There are no patterns to trade or to the way people are shopping, due to the fact most people are still working from home. Saturdays are not as busy as they would have once been, so I think it's about adapting to all of that really…
What happened to the business during lockdown?
I obviously couldn't open the shop when I wanted to (1st April), so I launched an Instagram page and put posters in the window. People started going online and placing orders which I started delivering and posting to their homes. So I did manage to have some trade through lockdown, I just couldn't open the shop. 
What business lessons have you learned from Covid?
That there is still opportunity and not to lose hope. I think 'local' is becoming more important, which has to be good for us small independents. I also think that there's more of an appreciation for small independents that probably didn't exist before, because we've all become localised. We now appreciate the people we get our coffee from and local shop owners, and I think those are some of the positive things that have come out of Covid. 
If you had the opportunity to do it all again, what would you do differently?
I probably wouldn't do anything differently, because I think you've got to do it, make a few mistakes, learn – and move on. I think the main thing is not to make the risk too high and don't buy into something too heavily. So that if you do get something wrong, it won't jeopardise the whole business model.
What tips would you offer to aspiring entrepreneurs?
Be passionate about the product or the offer that you're wanting to go behind. You've got to really like it, you've got to really love it, you've got to want to breathe it and live it… otherwise it becomes too engrossing.
When you're doing your business-plan make sure you do create worst case scenarios – this is really important.  Nobody could have known that I wouldn't have been able to open the shop for two months, but I did have in my business plan – the very worst case scenario, the better case scenario and the really positive scenario, so I was able to adapt the buy and adapt the cashflow to that. Be realistic, play it down and then any upside is really nice.
Finish this sentence. I like being based in Wandsworth because… I'm born and brought up here. I've lived here – apart from living away for periods of time at university – all my life. We're surrounded by so many great areas, parks and the river. The shop is called Un-Common –  because we're surrounded by commons. There's a really good community spirit in Wandsworth and I feel lucky to live here.
Instagram: @un_commonshop
Interview by Anna Humpleby